TasteTV and the International Chocolate Salon are pleased to announce that noted food writer and photographer Irvin Lin of EAT THE LOVE will be presenting at the Salon.
Irvin Lin is an IACP-Award winning photographer, award winning baker, award winning graphic designer, storyteller, recipe developer, writer and average joe bon vivant. He is the author of the new baking cookbook: Marbled, Swirled, and Layered: 150 Recipes and Variations for Artful Bars, Cookies, Pies, Cakes, and More (published by Houghton Mifflin Harcourt)
He has written or contributed work to the US MasterChef magazine, Blackboard Eats, SF Weekly's SFoodie Blog, Bay Area Bites, and Huffington Post.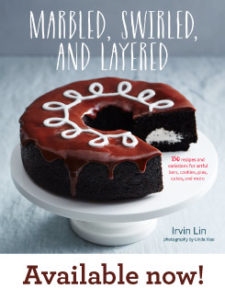 Irvin speaks at conferences, including BlogHer Food, the Annual Foodbuzz Fest, as well as judges at a number of food competitions, including the Taste TV Chocolate Salon, the 18 Reasons DIY Crazy Dessert competition and the Eat Real Festival: Jams, Preserves & Marmalade category.