WELCOME TO THE HOME OF POPUP RESTAURANTS & EVENTS
Welcome to PopUpRestaurants.com! If you are looking for a popup restaurant, a popup supper, a popup dinner, or any other food or drink popup, this is the place.
If you are a restaurant, chef, food creator, winery or brand looking for new ways to create & invent, then share your event and spread the word to our visitors by adding it to the calendar of popups here.
A popup for you to sample great cuisine made by culinary students at Victory Trade School. Continue Reading →
POPUPS: FEATURED POST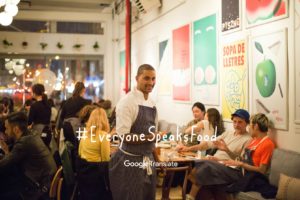 Food and Google Translate came together in #EveryoneSpeaksFood, a very tasty experiment. We opened a pop-up restaurant in New York City, inviting 18 Chefs to serve wildly global menus to our guests, using Google Translate to order and engage
Source: Google